The perfect Bike Cover for your Bikes!
Bike cover for the bike rack
The BIKEJACK bike cover is stretchable and therefore it fits perfectly to the different frame sizes of your mountain bikes or e-bikes.
Mountainbikes + E-Bikes
Straight MTB-handelbars & city-handlebars
Bike rack
on trailer couplings or rear racks
Bike protection for E-Bikes & Mountainbikes
L (length)
180cm – 210cm
H (height)
100cm – 130cm
B (handlebar width)
70cm – 90cm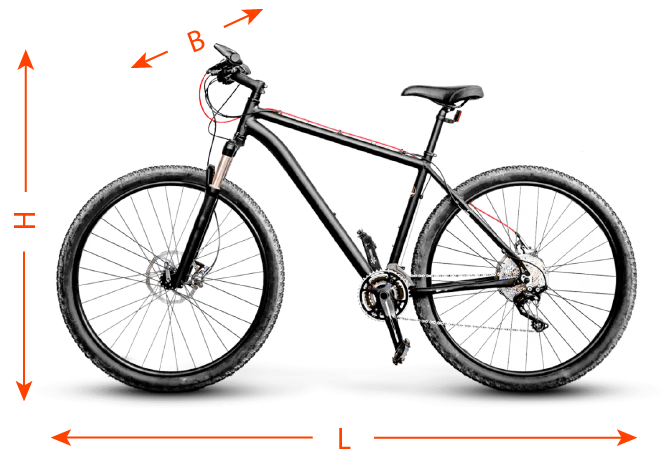 So the BIKEJACK cover for 2 bikes is very easy to put on!
Pull the 4 "ears" of the cover over the 4 ends of the handlebars.
Make sure that the zipper with the opening is in front. The opening of the bag is at the back – facing the car.
Pull one side of the cover over both tires of the 2 bikes.
Pull the other side of the cover tightly over the two opposite tires.
Inside you can now fix the two Velcro straps to the bikes and close the zippers.
We continue to work on our innovative BIKEJACK bike covers and BIKEJACK accessories. So stay tuned for what's still to come.
Are you waiting for a specific product? Write us and we will inform you as soon as it is available! ♥
Bike cover for 1 Road bike
Pedal protectors for safe transport under the bike cover.
FAQ • frequently asked questions
Is the cover stretchable?
YES. BIKEJACK is made of a strong, very stretchy fabric.
Is the bike cover machine washable?
Is the bike cover waterproof
BIKEJACK bike cover is dirt and water repellent. Due to the nature of a stretchy fabric, waterproof coating is not possible. Since you want to protect the bikes during transport primarily from dust, dirt and stone chips, the water-repellent finish is the perfect solution.
Is the bike cover printable?
Yes, you can custom print the cover. Feel free to contact us.
Is there also a cover for road bikes?
A BIKEJACK cover for road bikes is in planning. Feel free to write us and we will inform you before anyone else.
Will the bike cover fit over my 2 e-bikes?
The BIKEJACK bike cover fits over all common e-bikes and mountain bikes without any problems. Simply pull over 2 bikes at the same time and ride off. Click here for size view >
Is the BIKECOVER also compatible with tailgate carriers?
BIKEJACK bike protection cover can be used on bike racks on the trailer hitch, as well as on bike racks on the tailgate.
We have city bikes with curved handlebars. Does BIKEJACK fit?
The BIKEJACK bike cover is stretchable and should therefore fit well for city handlebars.
Missing a question?
Write them to us. We will be happy to answer.